Simple USSD gui for your modem.
In this version there are still some modems that support. (Maybe Huawei does not, but we will improve if needed)
How do you usually check the rest of your credit? Most of you will type a unique code on your mobile to get a short message sent by the operator. The code in question is a code that starts with an asterisk (*) and ends with a hash mark (#), for example * 123 #, * 111 #, or other codes that are owned by the cellular operator you use. The code will give a reply message to your cellphone regarding certain information, such as remaining credit information, remaining internet quota, and so on. You can also respond to the message by typing in a certain number to enter the next menu.
USSD which stands for Unstructured Supplementary Service Data is one of the short message technologies owned by GSM networks. Generally USSD is used to exchange text between mobile phones and applications that are on the operator's network. So, don't be surprised if most of the info and services that can be accessed using USSD are info and services related to your cellular operator. Like SMS, USSD also has a character limit in one message, which is 182 characters. This message sent by USSD is flash message.
That is, unlike SMS messages that will be stored on your cellphone, messages from USSD are not stored on your cellphone. This message will only be temporarily stored by your mobile during a communication session, or about 20 seconds. USSD responds and replies in a fairly fast period, which is about 4 seconds. In addition, USSD is also quite interactive because it can receive responses from the recipient of the message. This response speed and interactive capabilities make it still used for a variety of basic needs related to other operators or service providers.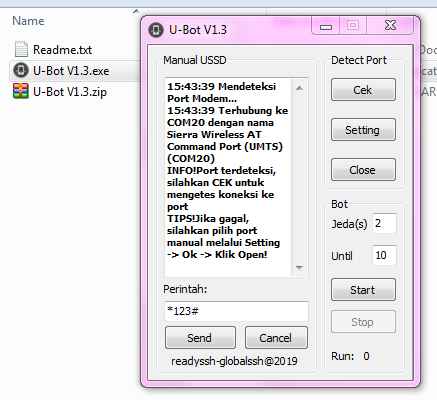 Fitur:

– Autodetect Port Modem
– Add manual setting port (bagi yang tidak terdeteksi otomatis)Manual Send USSD (seperti pada umumnya)
– Refresh respon jika timeout/tidak muncul
– Auto send command dengan waktu dan jumlah (Bot)
Description:
Port Detect:
Jika port tidak berhasil terdeteksi otomatis, maka silahkan pilih
setting->sesuaikan port->Ok-Open port ->cek
Manual USSD
Ini adalah perintah USSD Gui, bisa digunakan untuk cek pulsa, cek nomor, dsb. Yaitu dengan ketik dial numbernya di kolom perintah -> Send.
Jika sesi sudah selesai, sudah cukup, atau batal silahkan click Cancel
Bot
Bot akan berjalan sesuai comand pada perintah, dengan waktu/second, dan dengan loop sesuai pada kolom Until. Bot akan berhenti jika sudah tercapai untuk jumlah eksekusinya. Jika ingin memulai, silahkan klik Start, dan untuk menghentikan silahkan klik stop.
Link Download Here:
thank you for visiting our site.
need SSH? please visit readyssh.net and globalssh.net
Keep support us!