Yuhuuu.. New Update for VPN Tunnel here, adding cloak vpn system on application. Current Version 1.1

On previus version feature is a combination for STUNNEL engine and OPENVPN Engine, now for update version (1.1) app Cloak-VPN feature added on this application. Cloak default set for 32bit machine, but if u need id to run in 64bit u can download 64 bit ck-client, then replace current ck-client in [G]-Library with your downloaded 64bit ck-client file.
This is an application still in the development phase, meaning this is the first time being published. In the future we will keep develop this application so that it can be used with more fiture in all computer devices. We hope this application will be useful, we have tried so that this application can be used easily even by ordinary people. Okay Let's get into the inside of this application.
ScreenShot Tool: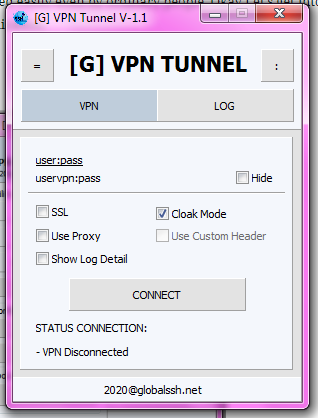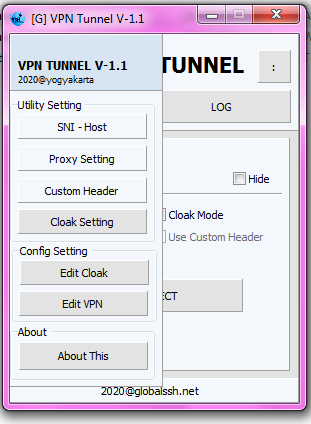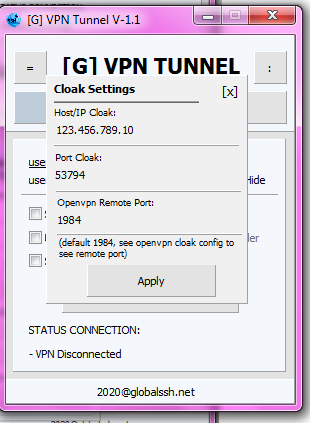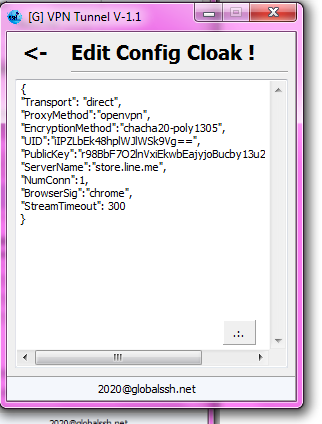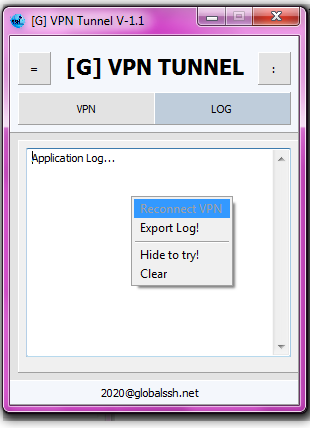 #Changelog:
Version 1.1
Whats New?
Add VPN Cloak management
Can Run VPN Cloak from this app
Fix some bug when load cfg
Old Version :
Version 1.0
Feature:
Surfing with VPN
Custom SSL settings
Custom VPN config
Can Run VPN SSL simplify (stunnel
version)
Note:
HTTP proxy only work with TCP
proto on VPN
config
SNI host/SSL mode only work on
VPN with stunnel
on server
Cloak? error on 64 bit? download ck-client.exe from github.
then replace curent file in [G]-Library with your 64 file.
Below are the download link for this tool:
if link error or not found you can contact us on globalssh Facebook pages. 🙂